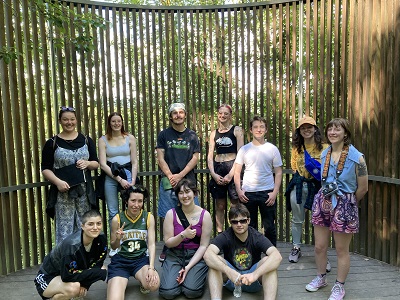 Thanks to the support of the Pigott Family Endowment for the Arts, eleven third- and fourth-year students in the Department of Art, Art History and Design took an all-expenses paid trip to the "Confluence Project," led by associate professors Ken Allan and Franc Guerrero at the end of May. The trip was integrated into Dr. Allan's spring quarter course ARTH 4620 Space & Site in Contemporary Art
Revising settler-colonialist perspectives on the role of Lewis and Clark in the history of the Pacific Northwest, the Confluence Project is a series of art sites that "connect you to the history, living cultures, and ecology of the Columbia River system through Indigenous voices," according to the project website.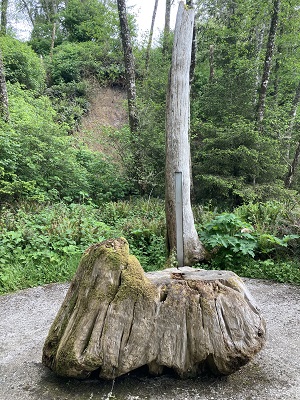 The non-profit organization "works through six art landscapes, educational programs, and public gatherings in collaboration with northwest tribes, communities, and the celebrated artist Maya Lin." Lin became famous for her design of the Vietnam Veterans Memorial on the Washington Mall in 1982, the competition for which she won as an undergraduate at Yale University.
Designers of the six sites employ the discourses of site-specific art, environmental design and landscape architecture to reconnect visitors to the Indigenous histories of the land and the surrounding communities.
Students learned about layered histories of the locations and explored how the various installations—from the elevated Bird Blind situated in the woods of Troutdale, OR to the low, stone benches of the Listening Circle in Chief Timothy Park in Clarkston, WA—encourage a multi-sensory engagement with the natural environment. The visit was preceded by a classroom visit and public talk by Dr. Matt Reynolds, Whitman College, to discuss his book manuscript and art exhibit on the Confluence Project.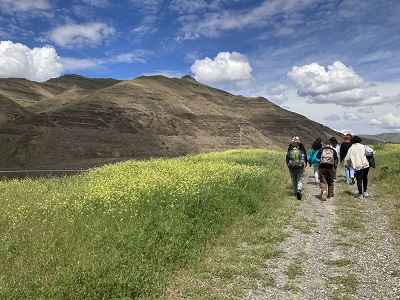 The Confluence Project sites include:
The Listening Circle, Chief Timothy Park, Clarkston, WA
Story Circles, Sacajawea State Park, Pasco, WA
Celilo Arc, Celilo Park, Celilo, WA (proposed site)
Bird Blind, Sandy River Delta, Troutdale OR
Vancouver Land Bridge, Vancouver, WA
Cedar Circle, Amphitheater & Walkway, Boardwalk, Fish Cleaning Table, Overlook, Cape Disappointment State Park, Ilwaco, WA
Photo at top: right to left, Vancouver Land Bridge, Vancouver, WA and Listening Circle, Chief Timothy Park, Clarkston, WA. Other photos courtesy of Kenneth Allen.