Meet 22 in '22 is Underway!
Posted by Seattle University Alumni Association on Tuesday, April 12, 2022 at 9:55 AM PDT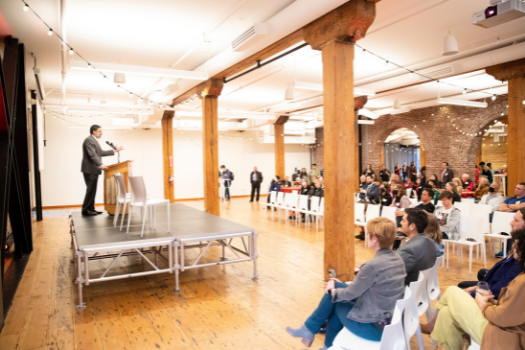 Seattle University's 22nd President Eduardo Peñalver has been traveling across the country over the past several weeks, hosting a series of events with alumni, donors, prospective students, and friends of the university.
Meet 22 in '22 has been an opportunity for President Peñalver to deepen his relationships with members of the Seattle U community who don't currently call Seattle home, which has been a priority for the president since his Inauguration last September.
"One of the most important goals for my first year is learning as much as I can about Seattle U," says Peñalver. "Getting out on the road and meeting members of these different communities in different places is another way for me to get to know the Seattle U family."
Peñalver has been accompanied on the tour by other leaders at the University, including Provost Shane Martin, Athletic Director Shaney Fink, new Vice President for University Advancement Edgar Gonzalez, and Assistant Vice President for Alumni Engagement Ellen Whitlock Baker. The stops have included the Bay Area, Los Angeles, Honolulu and Portland.
Each visit has included an "anchor" event, which has allowed attendees to hear directly from Peñalver about his current priorities and long-term vision for Seattle University. Additionally, the president has taken the reins as a panel moderator, facilitating an open dialogue between him, alumni, students, and faculty at each stop. This included a Graduates of the Last Decade (GOLD) panel, featuring recent alumni living in the Bay Area, and an Ignatian-inspired leadership discussion in L.A. – which included Erica Yamamura, director of Student Development Administration program/College of Education, as a panelist.
In addition to each "anchor" event, Associate Provost and Dean of Admission James Miller and his team have hosted an admitted students' reception, where future Seattle U students can learn more about Seattle U and the Redhawk community, meet other admitted students, as well as faculty, staff, and alumni. The reception provides admitted students with information about the "strategic directions and revitalization of the curriculum" occurring this year.
"This is a great opportunity for us to connect with our admitted students, which is something we were always doing, but what I'm excited about is that we're doing it in a more authentic way to Seattle U," says Miller. We are really looking at our admitted students and alumni communities as connected to one another."
The president's tour will pick back up later this month in Washington, D.C. on Friday, April 22, followed by stops throughout Washington state – including Tacoma (May 11), Bellevue (May 18), and the Tri-Cities (June 15).
To learn more about Meet 22 in '22, visit www.seattleu.edu/presidents-tour.